I'm not saying it's the greatest movie ever made. I'm not even saying that Cinderella is that strong of a character. She isn't, and that's okay. Not every female character needs to be Gloria Steinem.
What I am saying is Cinderella (1950) and its eponymous character are not nearly as bad as people claim, and the 2015 live action remakes ultimately "updates" very little from it.
Keep in mind that I do still like the remake (for the most part), but much like with the new Beauty and the Beast, I think it gets praised more than it really deserves, especially in contrast to the hate heaped upon its predecessor.
To start off, let's get a few things out of the way here:
Yes, the animated prince gets maybe 4 complete lines in the whole movie, one of which is, "Yawn." And yes, he has no character.
Yes, the mice take up too much time. And yes, a female mouse does in fact say, "Leave the sewing to the women," and isn't that so anti-feminist?
Got that out of your system? Great. On we go then.
Here is my interpretation of animated Cinderella, backed up by quotes from the opening narration: Her father died when she was very young, and suddenly it's revealed that her stepmother and stepsisters, her only remaining family, are self-centered, sadistic bitches; "it was upon the untimely death of this good gentleman, however, that the stepmother's true nature was revealed. Cold, cruel, and bitterly jealous of Cinderella's charm and beauty." She is put to work as their house servant soon after, but their house still falls apart because the stepmother is too cheap to hire more help. To quote the movie again, "The chateau fell into disrepair, for the family fortune was squandered upon the vain and selfish stepsisters".
So it can be reasonably inferred that Cinderella was brainwashed and manipulated from a young age. The fact that she hasn't left home probably means that she can't, as it would probably leave her homeless and starving (which can sadly happen to runaways in the real world as well, even in modern day). The movie supports this theory with its framing of shots, showing Cinderella constantly inside or at the very least confined to the surrounding property. Aside from the panning shot over the castle, town, and chateau during the opening, we virtually never see the rest of the land (unlike in the remake, if you'll remember).
It surprises me how many people fail to see the logical flow of events like these. They would prefer to call Cinderella stupid or weak, but I wonder if they could comfortably say the same of abuse victims in the real world, especially children raised in such environments? Think about it.
Anyway, the next thing people love to criticize Cindy for is being boring and simple. A helpless waif with no character and no drive to better herself. Well, aside from referring you back to my interpretation above, let's look at Cinderella in the movie. She is forced to do every chore in the house every single day of her life, but while she doesn't let it twist her into someone bitter and truly unkind, she clearly strains her patience very often. Just look at how the animators drew her face, albeit in brief moments:
Cinderella doesn't say much sometimes, and she tends to be pretty reserved, but much like Belle, she conveys a surprising amount through her expressions. You can also hear frustration and determination in her voice, such as when she's trying to convince herself that the prince's ball wouldn't have been that much fun anyway.
I also like how she not-so-subtlety mocks her stepsisters' performances at their music lesson.
See guys? She's not a complete goody-two-shoes doormat after all. She just copes like every other woman does….quietly and bitchily.
The classic Cinderella moral has always been "work hard and be good and good things will come to you;" essentially "don't give up." But I think an even better lesson would be, "don't let bad experiences change you negatively as a person," which incidentally would have been a better moral for the new Cinderella as well, retroactively-speaking. Cinderella as a character doesn't just work hard; she saves the mice, who are even lower on the social food chain than she is, and unlike the rest of her family, she treats those who are lower than her with respect and humanity.
She does try to argue with the stepmother (however futile that might ultimately be), so it's not like she has no backbone. She's trying to make the best of a bad situation, whether by trying to assert herself, trying to stay positive, or just being silly.
In a world of talking mice, horrible relatives, and fairy godmothers, what else can you do but yell at your alarm clock like it's a person?
When Cinderella talks about the ball prior to going, at no point does she mention the prince or the opportunity to get with him aside from when she was reading the invitation. It sounds more like she just really wanted the excuse to put on a nice dress and have a fun night out. Even after she runs away at midnight, she doesn't think that the man she danced with was the prince, and later, she is so startled by that revelation that she drops a tea tray.
Face it: Cinderella just wanted to get pretty and go to a party. She met a guy while she was there, somehow not realizing he was the prince, and that just made the evening better. Unlike in the remake, the writers don't explicitly say that Cinderella has no chance with the man she danced with, but I feel like Cinderella would already know that and just have quietly appreciated the experience.
Then, the next day, when she finds out that not only can she be with him, but he's the prince of the entire country, her first thought is to go clean up and make herself presentable. Her daydreaming blinds her to caution, sure, but she's clearly elated to be able to marry the man she "fell in love with" (it's a fairytale. Whatever) and escape her abusive, exploitative family.
And last but not least, do you remember her reaction when the stepmother locks her in her room? She gets upset. She beats on her door and tries to pull it open.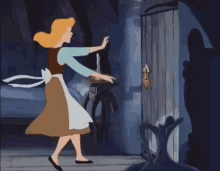 When she sees that her mice friends are coming to help and bringing her the key, she encourages them, and despite her usual policy of trying to be nice to Lucifer, she asks the birds to get Bruno the dog just to scare him away.
What was remake Cinderella's reaction again?…Oh yeah, I remember. She twirled around her room daydreaming about the prince and the ball, singing to herself and totally not caring about what the stepmother might be planning to do to her. Because that's really smart and empowering, right?
Remake Cinderella could ride a horse, speak several languages fluently, was an adult when the step family came into her life, and was shown numerous times to be able to leave the chateau and visit friends, who would probably take her in for a little bit if she asked them to. Hello! The filmmakers love to talk her up like she's some feminist paragon, and by implication how backwards and weak old Cinderella is, but the climax of the movie completely ruins the image of the former for multiple reasons. The most relevant of which is that she doesn't even try to get out or help herself, unlike the animated Cinderella. Just because 1950's Cindy failed to get out on her own doesn't negate the fact that she actually tried to.
That's all I'm trying to say here. Both movies have their respective flaws and strengths, but the older version is not as bad for little girls as many people would have you believe. And as I always say, you could help your children understand context by watching it with them and talking to them about it, letting them know that it was made 70 years ago and lots of things change in all that time. It's a little magical thing called context, and it works wonders.
Except maybe things don't change much over 70+ years, because the remake updates so little and creates more issues than it ultimately fixes, all so that Disney could cash in on nostalgia and modern sensibilities simultaneously.
That's what it's all about; dress porn for little girls and girls at heart. At least 50's Cinderella's was less gratuitous…and way shorter. And less radioactive-looking.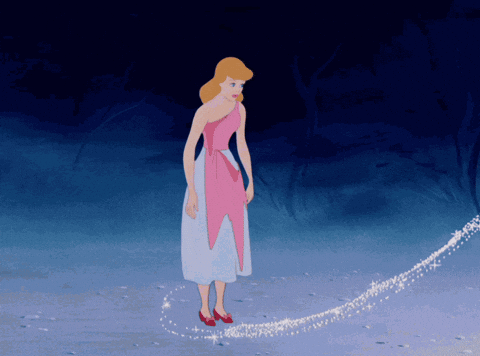 You can still like something while admitting it has problematic elements to it. That's how I can comfortably like both versions of this story. I just see so many people trying to pretend that one Cinderella is way worse than the other, when really, it's two halves of the same whole. It's too much selective outrage and modern sensibility, without actually addressing any of the problems they claim so deeply upset them.
Cindy's not a bad person. Maybe all we need to do is see her in full light.
*None of the gifs or pictures in this post belong to me. They all belong to Disney. 
SaveSaveSaveSave
SaveSave